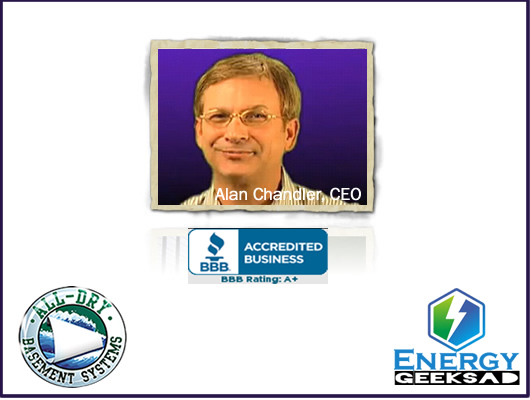 It All Stared in 1969....
History

of Our Company

It was 1969 and Alan Chandler went on his first basement job... Thas was the beginning of All Dry Solutions. Since then All Dry has grown to be the industry leader in basement waterproofing, structural repair, and home clean air solutions.

As an adjunct to their service line, clean air solutions and energy saving solutions has become a core focus of All Dry Basement Systems. Through Energy Geeks AD, All Dry helps homeowners across the country with not only getting the best possible air in their home, but in helping them to maximize their energy savings.

We proudly service TN and KY areas.
Energy Geeks AD
Services
No matter what type of system or setup you have in your home, you can count on the team at EnergyGeeks to provide the best solutions to your energy usage. We will help you to reduce your KwH usage, saving you money on your utility bills. We also have the best clean home air solutions.
Home KwH Usage Savings
Save Money Year Round
Energy Saving Products
Healthy Home Air Solutions
Indoor Air Purification
Energy Usage Solutions
Home Energy Audit
Home Germ Reduction
Pet Dander Reduction
Duct Cleaning Services
Home Clean Air Solutions
Highest Quality Products
Company
Mission & Vision
Company Mission
We deliver the most professional home energy savings solutions. Our unmatched client experience can save you money year round on your energy usage by reducing your KwH usage. In addition, our clean home air solutions can help maximize your home's clean air. We have the highest levels of respect from our community and a rewarding environment for our employees to succeed.
Company Vision
Our vision is to ensure homeowners everywhere have not only the cleanest home air possible to protect their family, but to also ensure that their home energy consumption is minimized as much as possible.
Our Values
We value our customers like family...when you work with Energy Geeks AD (or any of our service partners, such as All Dry Basement), you can be sure that you will be treated fairly and with respect.
Our experts are ready to help today!
Our Advantages
Energy Geeks AD is your single source for a complete range of high-quality energy saving products and healthy home air services. By working with us, you are working with a company that has over 50 years of experience and highly trained employees.
24/7 Emergency Services
Free
Estimates
Your Family Deserves Healthy Home Air
Licensed & Insured Experts
We Have Experienced and Dependable Employees